SHANGHAI is such an abstract word, yet all too profound to embody everything.
上海是一个如此抽象的词,却又如此深刻,无法体现一切。
Even for a veteran artist, it is almost mission impossible to create a themed painting under "Shanghai." Frankly, the bigger the theme, actually the harder the rendering.
即使是一个资深的艺术家,在"上海"的主题下创作一幅油画也是几乎不可能的。坦率地说,主题越大,渲染就越困难。
But veteran local artist Wang Jiafang has made it.
但当地资深艺术家汪家芳成功了。
Wang spent nearly 40 days standing on a scaffold to implement a daunting piece 7.5 meter long and 5.5 meter wide, titled "Shanghai."
汪花了近40天的时间站在脚手架上,完成了一件长7.5米、宽5.5米、令人望而生畏的作品,名为"上海"。
Born in the city's Jiading District, Wang graduated from the art department at East China Normal University in 1997. He rose to fame through a series of traditional landscape paintings.
汪出生于嘉定区,1997年毕业于华东师范大学艺术系。他通过一系列传统山水画而出名。
But this time, the artist chose a subject that he seldom painted before brushstrokes–architecture.
但这一次,艺术家选择了一个他在绘画之前很少画的主题——建筑。
"Last June, I received a commission from the local government for the creation of a large-scaled painting 'Shanghai,' reflecting the history, culture, economics and arts of the city," Wang said.
汪说:"去年6月,我接受了当地政府的委托,创作了一幅反映上海历史、文化、经济和艺术的大型画作《上海》。"
At first, Wang was excited about the special honor, however on second thoughts, he was immediately aware of the challenge and the pressure.
一开始,汪对这个特别的荣誉感到很兴奋,但是转念一想,他立刻意识到这个挑战和压力。
"Because I didn't have the least idea of what to paint and how to paint to reflect Shanghai, not to mention about its past, present and future," he said, "There was even a moment that I was uncertain whether a piece of painting could accomplish this task."

"因为我根本不知道该画什么,也不知道该如何描绘上海,更不知道它的过去、现在和未来,"他说,"甚至有那么一刻,我不确定一幅画能否完成这项任务。"
But as someone born in Shanghai, the artist quickly focused his eyes on shikumen, the traditional Shanghainese architectural style
但作为一个出生在上海的人,这位艺术家很快就把目光投向了石库门——上海传统的建筑风格
Combining Western and Chinese elements, shikumen first appeared in the 1860s. At the height of their popularity there were 900 shikumen-style buildings in the city, comprising nearly 60 percent of its total housing stock.
石库门最早出现于19世纪60年代,是中西结合的产物。在它们最受欢迎的时候,上海有900座石库门风格的建筑,占全市住房存量的近60%。
In fact, shikumen is the "soul" in this painting.
事实上,石库门是这幅画的"灵魂"。
The daunting work features red shikumen architecture, plane trees with a blurred backdrop of the skyscrapers in Pudong.
这幅令人望而生畏的作品以红色石库门建筑为特色,飞机上的树木和浦东摩天大楼模糊不清的背景。
"Now I can't recall how many sketches and adjustments I have made on this painting work," he said, "Although it took me 40 days to complete, I did tons of research work before I started to paint."
他说:"现在我记不起我对这幅画作了多少素描和调整,虽然我花了40天才完成,但在开始画画之前,我做了大量的研究工作。"
Wang read a lot of historical materials to study small details such as the door frames of shikumen architecture in different historical periods.
汪先生阅读了大量的史料来研究石库门建筑在不同历史时期的门框等小细节。
Of course, shikumen in Shanghai is also stamped with its "Red DNA" because the first, second and fourth congresses of the Communist Party of China were held there.
当然,上海的石库门也有"红色DNA"的印记,因为中国共产党的第一、二、四次代表大会都在那里举行。
On rice paper, Wang paints the story of "Shanghai" in four parts: the old, new and modern styles of shikumen and the soaring heights of Lujiazui in Pudong.
在宣纸上,汪把"上海"的故事分为四个部分:石库门的旧、新、现代风格和浦东陆家嘴的高耸高峰。
"Whoever sees this painting, he could immediately tell that this is Shanghai, only Shanghai," Wang said. "And this could only be the scene in Shanghai."
汪说:"无论谁看到这幅画,他都能立即判断这是上海,只有上海。""这可能只是上海的场景。"
The painting has not only been well received by the authorities, but also the art community as well.
这幅画不仅得到了当局的好评,也得到了艺术界的好评。
"As an artist, I feel quite proud for the work," he said, "I hope the painting will be an icon for this amazing metropolis in the future."
他说:"作为一名艺术家,我为这幅作品感到骄傲。我希望这幅画将来能成为这个神奇大都市的标志。"
What's the biggest challenge for this work?

这项工作最大的挑战是什么?
At the infant stage of its creation, it was how to find the right concrete subject to reflect the abstract word of Shanghai.
在其创作的幼年阶段,如何找到正确的具体主体来反映上海的抽象词。
During the creation period, it was how to balance myself standing and painting on a scaffold, a rather tough job both spiritually and physically.
在创作期间,它是如何平衡自己的站姿和在脚手架上绘画,这是一个相当艰巨的工作,无论是精神上还是身体上。
How did it feel standing on a scaffold to paint?
站在脚手架上画画感觉如何?
Just imagine, the work is 5.5 meters high! It can't be done without a scaffold. Every brushstroke should be carefully considered in my mind before I paint, as no mistake could be made on the rice paper.
想象一下,这项工作有5.5米高!没有脚手架是做不到的。在我画画之前,我应该仔细考虑每一笔,因为在米纸上是不会出错的。
I even stood on a lift vehicle with a moving stretching platform where I was able to use a specially made big brush for the final coloring on the painting that spread on the ground.
我甚至站在一辆有活动伸展平台的电梯上,在那里我可以用一把特制的大刷子在地上的油漆上涂上最后的颜色。
Since it is a government commissioned work, were there any strict rules for the work?
因为这是政府委托的作品,对这项工作有什么严格的规定吗?
If I say no, it would not be true. Because the painting will be displayed in the room for diplomatic meetings at Xijiao State Guest Hotel, so every small detail should be considered. For example, it was better not to have windows or trees over the head of the leaders sitting in front of the work. Also striking colors in the same area should be avoided.
如果我说不,那就不是真的了。因为这幅画将在西郊国宾馆的外交会议室展出,所以每一个小细节都要考虑。例如,最好不要让领导们的头上有窗户或树木坐在工作前。同样,应避免在同一区域出现醒目的颜色。
Why did you choose autumn rather than other seasons in this work?
你为什么选择秋天而不是其他季节来做这份工作?
In my eyes, autumn in Shanghai is so beautiful.
在我看来,上海的秋天是如此美丽。
At first sight, this work seems visually different from those stereotype ink-wash paintings. What kind of technique did you apply in the work?
乍一看,这幅作品在视觉上似乎不同于那些刻板的水墨画。你在这项工作中应用了什么技术?
Perhaps this is my advantage, I studied various art forms at the university such as canvas and print. I wanted to enrich the hues in the work, so I applied many colors with almost 20 layers. But don't be mistaken, all these colors are pure traditional mineral colors, without any acrylics.
也许这就是我的优势,我在大学里学习了各种艺术形式,比如油画和印刷。我想丰富作品的色彩,所以我用了近20层的许多颜色。但别搞错了,所有这些颜色都是纯传统矿物色,没有任何丙烯酸。
In regard to the tableau, I used a front horizontal angle filled with a spatial depth, reminiscent of the wide-angle lens in a movie scene.
在画面方面,我使用了一个前水平角,充满了空间深度,让人想起电影场景中的广角镜头。
Do you think this work represent the climax in your art career?
你认为这部作品代表了你艺术生涯的高潮吗?
I feel quite accomplished for this work, but I don't think it is the climax in my art path. Based on the confidence accumulated from this painting, I plan to paint the same subject of Shanghai in spring, winter and summer of the same size.
我觉得这部作品很有成就感,但我不认为它是我艺术道路上的高潮。基于这幅作品积累的自信,我计划在春、冬、夏三季再画同一主题的"上海"。
Who is your favorite artist, and why?
你最喜欢的艺术家是谁,为什么?
Lin Fengmian (1900-1991) is my favorite artist, because his work used the Western art language while at the same time inherited the oriental spirit. Another is Egon Shiele (1890-1918).
林风眠(1900-1991)是我最喜欢的艺术家,因为他的作品使用了西方艺术语言,同时继承了东方精神。另一个是埃贡·希勒(1890-1918)。
Apart from painting, do you have other hobbies?
除了绘画,你还有其他爱好吗?
I like traveling.
我喜欢旅行。
Every year, I travel a lot around the world. Next week, I will go to Finland with my wife to see the aurora polaris. Hope we can see it!
每年,我都要周游世界。下周,我将和妻子去芬兰看北极星。希望我们能看到!
This painting is permanently displayed at Xijiao State Guest Hotel for diplomatic meetings, but it is not convenient for those who want to appreciate the painting, is it a regret for you?
这幅画永久性地陈列在西郊国宾馆举行外交会议,但对于那些想欣赏这幅画的人来说并不方便,是不是很遗憾?
A bit regret, because it is my interpretation and expression toward Shanghai's past, present and future.
有点遗憾,因为这是我对上海过去、现在和未来的诠释和表达。
Now I am considering how to develop its art derivatives that could be appreciated by more people.
现在我正在考虑如何开发它的艺术衍生产品,让更多人欣赏。
Do you have any exhibition in 2019?
2019年有展览吗?
I will have an exhibition featuring several thousand name cards that I have collected during my trips in the past decades. But don't think these name cards are those familiar ones, because I painted my sketches on its back. Moreover, I asked for a postmark on the card at the post-office at each tourist destination. This is my own travel diary, visually of course!
我将举办一个展览,展示我在过去几十年的旅行中收集的数千张名片。但不要认为这些名片是那些熟悉的,因为我在它的背面画了素描。此外,我还要求在每个旅游目的地的邮局在明信片上盖上邮戳。这是我自己的旅行日记,当然是视觉上的!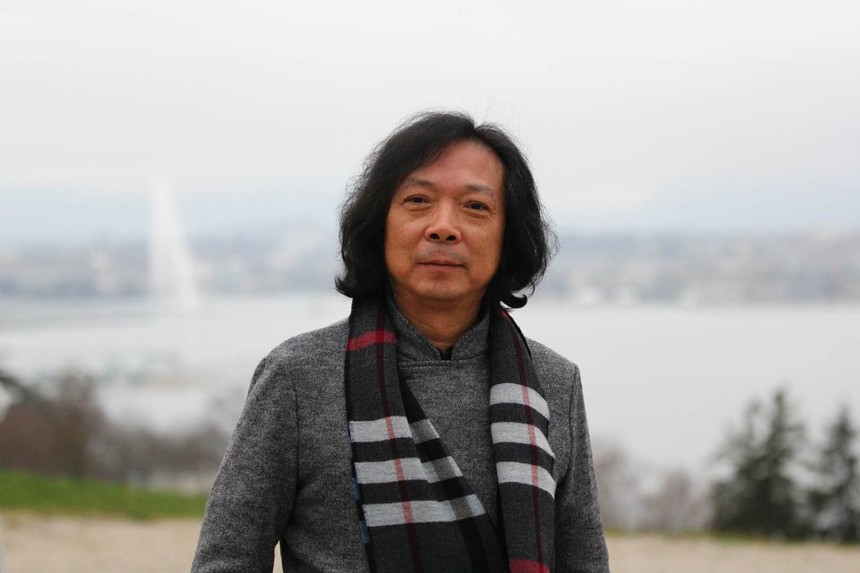 Artist Wang Jiafang
艺术家 汪家芳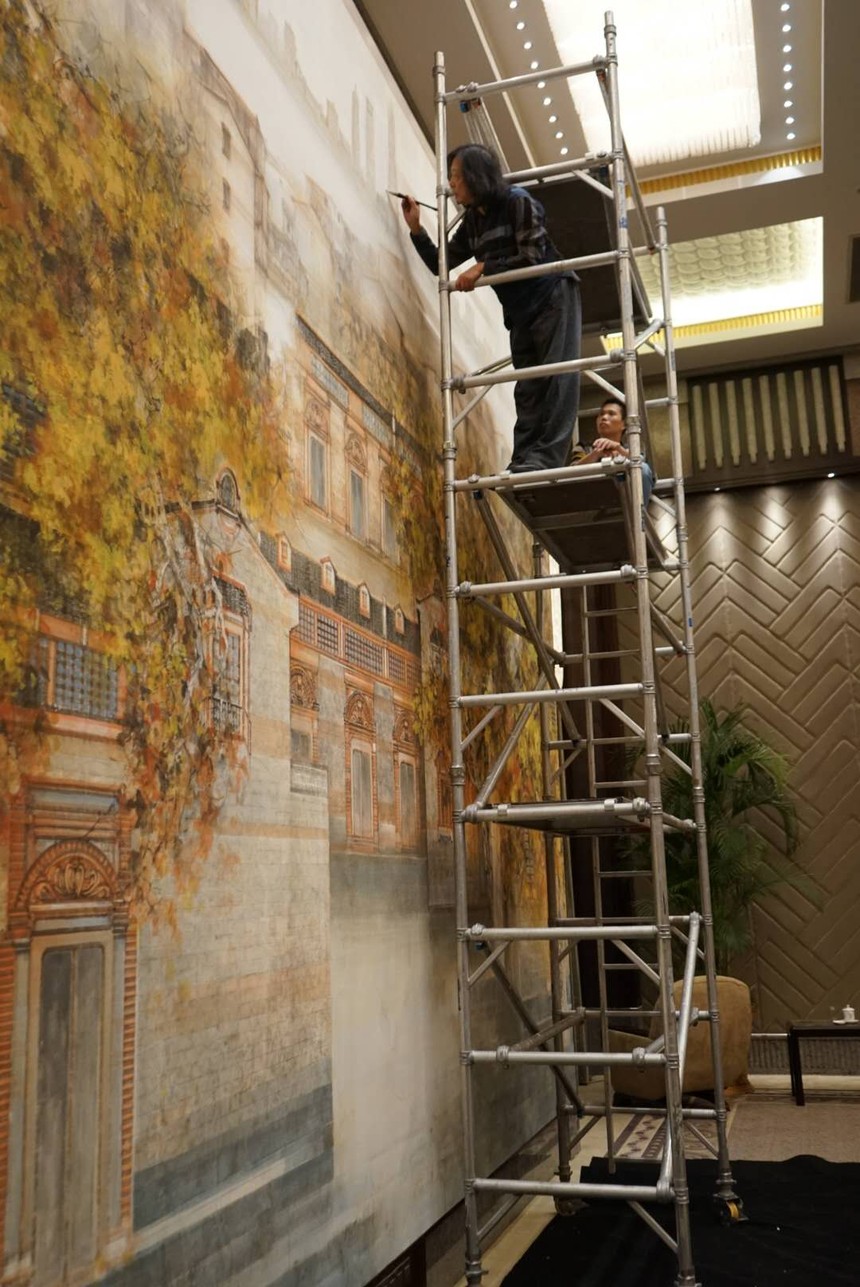 Source: SHINE Editor: Fu Rong